With respect to my colleague Shank, I am going to have to disagree with his recent post about how fast travel is bad for Skyrim, and Elder Scrolls games in general. In fact, I'm not sure I could live without it.
First of all, let me begin with the point he made that I agree with.
The Map
It really does bother me, that when looking at your map for the first time in The Elder Scrolls IV: Oblivion, you can just jump to any of the nine major cities in Cyrodiil. For a game based on exploration and taking your breath away with its huge-ness, this seems like a big "oops" by Bethesda. Fortunately, as Shank said, they fixed this somewhat in Skyrim. You can still see the major cities, but you can't just fast travel there (except by cart). However, I don't think your map should be completely blank upon entering the world; otherwise, it's not a map. And in this game based on realism, I want a map, not a blank piece of paper.

Granted, that map doesn't have to be completely detailed, with every road, village, cave, and outhouse clearly labeled. What I'd like to see is a version of a map that you come across in the beginning of the game, that isn't complete. Maybe an adventurer (who has just taken an arrow to the knee and is fading fast) hands it to you and tells you that he hasn't had a chance to see all of Skyrim yet, but hopes that you can make good use of what he HAS seen. So since you start Skyrim in the central/southern region of the country, it might make sense if the map only detailed the land around Riverwood, Whiterun, Windhelm, and Riften, and maybe the rest was uncharted, or was only "approximate," because the adventurer had not been to those areas yet. In the case of Oblivion, it would be fine with me if your map only had the Imperial City, Cheydinhal, and Bravil included on it, and the rest was either blank, or had "approximate" locations of the other cities.

Where Shank and I REALLY Disagree
Having a map that isn't completely cleared and detailed for you upon starting the game is an essential part of any RPG. I certainly wouldn't want to see a map that showed me everywhere I could go upon entering the world, and then let me fast travel there. I'm not advocating for that. But what I DO want is the ability to fast travel once I have discovered a location – like what we have now. I don't have the time to constantly be walking back and forth from one side of the map to the other, just to get from point A to point B. It's really awesome that it takes an hour and a half to get from one location to another in these games, because that means the game is huge, and infinitely explorable. But I don't want to be handcuffed to walking.
On a good night, I get three hours to play games. On a more normal night, it's about an hour. If I never fast traveled, I'd STILL be trying to get to Solitude for the first time!
I do agree that this game is designed to be explored, to not be rushed, and to not follow a linear path. But when I log into the game and it's 10:00 at night, and I just know that our baby will probably start crying within a half hour, I just want to get something accomplished. Anything! Which is why it's nice to open up my map, quick travel up to Solitude, pickpocket a few guards, kill a random Argonian (for my buddy Shank), turn in a quest, and get back down to Riften to sell my stolen goods. If I couldn't do this, I don't think I'd still be playing the game.
My Solution
So here's what I propose: fast travel + random encounters/events.
If you ever played Fallout 2, you may know what I'm talking about. In that game, fast travel was possible between locations, but you were randomly stopped if your character happened upon an enemy (based on some sort of formula that I have neither the brains nor the time to try to explain). That same idea could be implemented into Skyrim (or TES VI at least) to give the world of fast travel a little more life. And to make things even more interesting, these random fast travel encounters could be with extremely difficult enemies, or groups, or maybe even an "area boss" that just happened to be out for a midnight stroll, so it's sort of a punishment for fast traveling, without preventing you from doing it.
Additionally, when fast traveling, you could accrue some sort of "weariness effect." Basically your character is exhausted from such a long trip, that upon getting hit with one of those random encounters, your stamina is down, or you just move sluggishly, almost like you're over-encumbered. Or maybe if you fast travel too much within a certain amount of time, these effects could last for a while with no "known" cure (but there's an idea for another quest chain right there, finding the cure to this "weariness effect"), just to give you another reason to think about NOT fast traveling, but still giving you the ability to do so. Maybe this isn't a perfect idea, but I think if fleshed out, a "weariness effect" could be a good deterrent to fast traveling too much.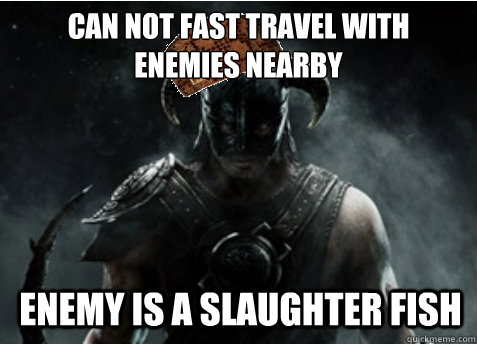 These tweaks to the fast travel system would work for me. It would let me jump from Solitude to Riften without having to spend all night walking there, but would make me think twice about clicking that button with a character that maybe isn't prepared for taking on difficult enemies. I'm still not getting to see all that the world has to offer, but I'll get there eventually. At the heart of my love affair with Elder Scrolls games is the exploration, the unknown adventure, and the desire to see what's just beyond that next ridge. But when I just want to get some stuff done before the 11:00 baby feeding, and clear out my ridiculously long to-do list (quest log), this would allow me to do so.
Conclusions
So Shank, no hard feelings brother, but I reject your "no fast travel" notion (but hey, at least I took out another Argonian for you in this column). I don't want to be punished for not having enough time to play the game. I think Bethesda has done a nice job of making a game that caters to both die-hards and casual players, which is important if they want their games to be successful. Believe me, I understand that fast travel goes against the basic principles of exploration and freedom, but the current system can be tweaked a little bit to make it more immersive and interactive. And while it still won't force players to just go out and explore the world, at least it would make you think twice before deciding to hop from one side of the map to another.
There's no perfect solution to please every style of player. My system may not be the best either, as I know many people disliked the fast travel encounters in Fallout 2. But I think rather than going to the extreme of cutting fast travel altogether, these might be good compromises. An unfinished map, fast travel encounters, and a weariness effect would surely make fast traveling a little more engaging than just popping open a detailed map, clicking on a location, and zipping there immediately. What do you think? Am I on to something here, or is fast travel still a bad idea? Let us know in the comments below, and as always, stay tuned to Elder Scrolls Off The Record for all the latest news, opinion, and gameplay in the world of Tamriel.