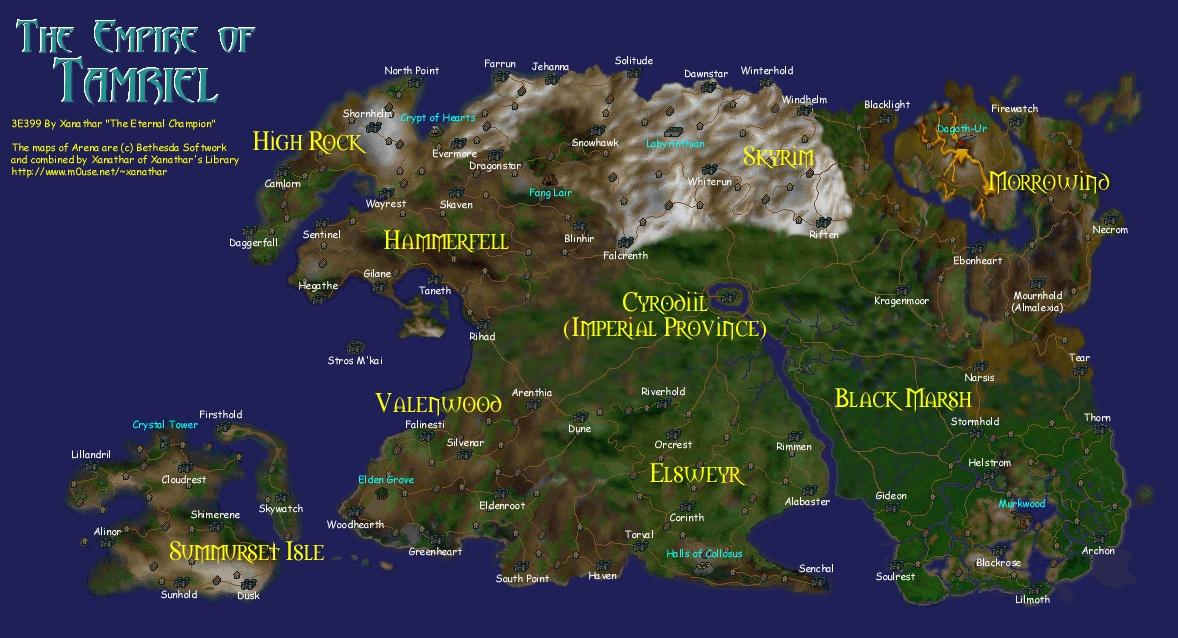 With the announcement of The Elder Scrolls Online last year, excitement has been building about the possibilities of taking the single player Elder Scrolls experience and meshing it with an online multiplayer component. With games as massive as the previous installments in the franchise have been, making a massive, open-world game seems like a logical next step. The game will bring together all the countries of Tamriel and give players the freedom to explore and battle together or alone. The future of The Elder Scrolls is looking incredibly bright.
But today I want to examine how looking forward to The Elder Scrolls Online is helping more players than ever enjoy the past.
The Elder Scrolls Online will give players the opportunity to adventure through all the territories previously featured in Elder Scrolls games. Morrowind, Skyrim, Hammerfell, they're all there. So if you've spent any time in the previous Elder Scrolls games, you will likely recognize much of the land you see in ESO. ZeniMax Online Studios has said, for example, Skyrim will be recognizable, though while some cities won't have developed yet, some of the ruins that exist in TES V may not quite yet be ruins in ESO. It's an exciting thought, knowing that we'll be able to explore lands we already know so much about, but in a multiplayer and massive setting.

When ESO was announced, I know for me personally, I suddenly became much more interested in the previous games again. While I already owned Morrowind, Oblivion, and Skyrim, I wanted to know more about the previous titles. Bethesda made Arena and Daggerfall available for download from their website for free, opening up the opportunity for fans to go back and experience the games again or for the first time. To be honest, I didn't spend a lot of time in the games, as they didn't run super well on my machine (but hey, they were free!), but what I took away from them was purely Elder Scrolls. It's easy to see how the Elder Scrolls world we know and love today was influenced by what was done back in the early days. I wonder if Bethesda knew exactly where they were taking the series, or how amazing it would turn out?
But where things really picked up was getting back into Morrowind and Oblivion. I had already spent a good couple hundred hours in Oblivion on my Xbox 360, but when I downloaded it from Steam and started playing again, the love affair for this game started all over again. I played it with a fresh set of eyes. Eyes that were looking to ESO, wondering how what I was seeing in Cyrodiil was going to fit into the MMO. One of my favorite places to visit in any game is the Imperial City. Knowing what a pivotal role this city will play in PvP, I can't stop exploring and just sitting and staring at it from afar. I've been visualizing what these massive battles are going to look like, amd wondering how other PvP events are going to work around the country. In such a beautiful setting, it's interesting to think about what's to come, knowing that these fields and forests will soon be littered with hundreds of bodies, hopefully mostly by my doing.
But beyond Oblivion, I have also ventured back into Morrowind. I haven't spent nearly as much time in this game as I have Oblivion or Skyrim, but again, I'm coming at it with a new set of eyes now, wondering how it will look in ESO. With improved graphics and all new stories and quest lines, this country will be reborn in ESO, and I, for one, am loving adventuring around again. It's fun to identify landmarks, paint a good picture of them in my mind, and wonder if they will be in ESO as well.
I'm starting to keep a journal of all the landmarks I want to track down in ESO. I want to make sure I seek out these places and see how differently they look. It's like in life, when you see a city on TV that you've been too, and you inevitably say, "I was standing right there!" I want to do that in ESO, too. I want to go into Skyrim and drop a dragon in Lake Henrich, hop into ESO and wander down to Riften and say, "Yep, in 1,000 years I'm going to kill a dragon and sink him in this lake."
I have to believe I'm not the only one who has developed a new appreciation for not just Skyrim, but all the previous Elder Scrolls games. I would be willing to bet that sales for Morrowind and Oblivion have risen sharply in the last year, and that can only mean good things for ESO. With a player base already excited and pleading for the game to come out as soon as possible, and with many of their fans going back and exploring these games for the first time, this is going to be a massively dedicated and emotionally invested player base. And if the game ends up being as great as it's sounding, ZeniMax and Bethesda are going to have a lot of happy people on their hands.
So if you haven't taken the time to go back and enjoy previous Elder Scrolls content, I would urge you to do so. Reinstall Morrowind or Oblivion, look for them in a Steam sale, or go buy a copy for your console off Amazon. There's nothing like entering a brand new game already understanding the map and the lore, and since all we can do at this point is wait, why not?
[author] [author_image timthumb='on']http://mymiddleearth.com/wp-content/uploads/avatars/2330/209800074bd5c82316e83f77e0d73de4-bpfull.jpg[/author_image] [author_info]Brian covers The Elder Scrolls and PlayStation news for The Quest Gaming Network. You can see all his work for QGN @SilentFury007, and follow him on Twitter at silentfury007. [/author_info] [/author]
Photo Credits
Imperial City in-game screenshot